The Nativity scene
The angel said to her: "Do not be afraid, Mary, you have found favor with God. You will be with child and give birth to a son, and you are to give him the name Jesus". And Mary brought forth her firstborn son, and wrapped him in swaddling clothes, and laid him in a manger.
This phrases describe perfectly how the Nativity scene is represented also nowadays, with the Baby Jesus in the manger and his mother Mary and his father Joseph. The ox and the donkey are positioned behind them whereas all the other figures like the sheperds and the other animals are placed in front of or next to them. The Nativity scene is completed with the angels and the Three Wise Men, who are guided by the comet and come to worship the newborn King with gold, myrrh and incense.
The Franco Comploj collection of Nativity scenes comprises two models, both including the Holy Family, the sheperds, animals and the Three Wise Men. The Orient Nativity scene is composed of 36 figures and the Comploj Nativity scene of 41 figures.
The Orient Nativity scene mirrors the oriental lifestyle, so that the figures are wearing traditional oriental dresses. The Comploj Nativity scene on the other hand reflects the
alpine lifestyle, which means that the sheperds are represented wearing typical leather trousers and the sheperdesses the traditional apron. In addition, our collection of Nativity scenes also includes models of the Holy Family carved out of a single block of wood or single representations of the Baby Jesus, such as the well-known Infant of Prague. You can find further details about our production of Nativity scenes in the Franco Online Shop.
Origin and symbolism of the nativity scene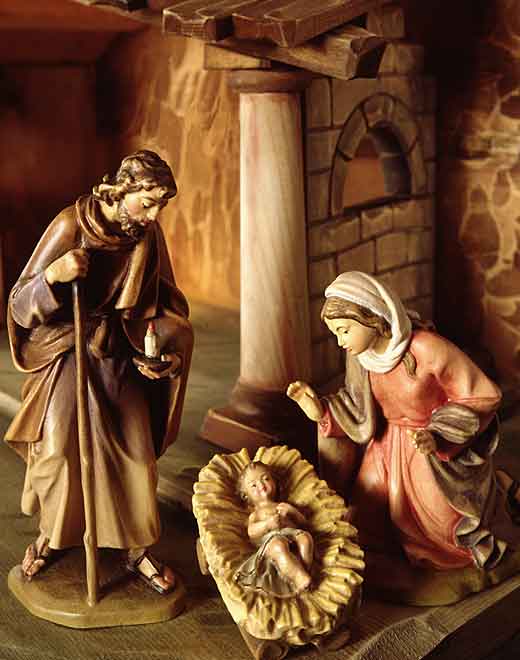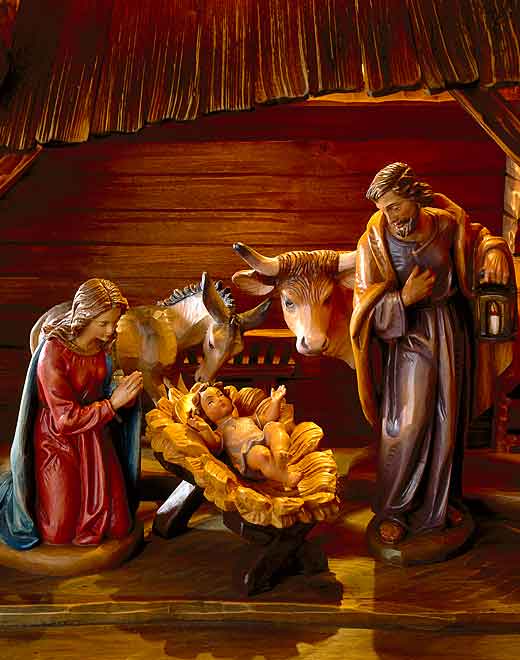 Comploj Nativity scene consisting of 41 figures.
Sizes 2½"(6cm) - 5"(12cm) - 7"(18cm) are carved in maplewood
while size 14"(36 cm) is carved in lindenwood.
The indicated sizes refer to the size of the crib-figurines
(the reference point is the actual size of St. Joseph).
Image of the complete Nativity scene
Nativity scene folder PDF file (Adobe Reader)
Madonna, St.Joseph, Child Jesus, Wise Man kneeling, Wise Man white, Wise man black, Angel of Glory, Shepherd kneeling, Shepherd with bagpipes, Shepherd with lantern, Shepherd with sheep, Camel-driver, Shepherd with boy, Shepherdess with girl, Ox standing, Donkey standing, Sheep small, Sheep big, Group of 2 sheep standing, Dog, Dromedary camel, Ram, Elephant, Sheep lying, Sheep browsing, Sheep head raised up, Group of 2 sheep lying, Goose, Group of 2 geese, Cock, Group of cock and hen, Group of 2 lambs, Group of 3 goats, Shepherd by the fire, Shepherd holding his hat, Shepherd with goose and sheep, Shepherd kneeling with sheep, Shepherd sleeping, Shepherdess with jug and bread, Children with 2 sheep, Shepherdboy with horn
Folder The Nativity Scene - Gardena Art (PDF file Adobe Reader)