The woodcarving tradition in Val Gardena goes back to the beginning of the 17th century
Some mountain peasants in Val Gardena, especially between Ortisei and Santa Cristina, were the first to carve wooden figures. Valley records mention the Vinazer family at Pescòsta and the Tröbingers at Ciancèl, who were probably the founders of woodcarving in Val Gardena.
After earlier generations of these families had learned their noble trade at well-known art workshops and academies, such as in Munich, Vienna, Venice and Florence, they began to specialize almost exclusively in religious sculptures. Only somewhat later were secular woodcarvings created.
As the industry developed, the first dealers began to appear, first as itinerant traders, and later as wholesalers of the woodcarvings in Val Gardena. A few decades later a real network of salesmen and representatives emerged, marketing the works all over Europe.
So, many families in Val Gardena not only continued to cultivate their native farms, but also began dedicating their time to woodcarving, painting, gilding, toy and cabinet-making, and altar building.
The picture shows a group of artisans, predominantly painters. Among them we also see Franz Comploj dl Pizuela (1880-1963)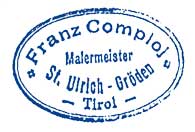 , tagged with No. 23, second row, the third from left.
He was the father of our company's founder. Franz Comploj was born on 4.4.1880 at the Pizuela farm in Selva di Gardena. Later he moved to Ortisei and married Amalia Runggaldier da Passua. In Ortisei he worked as painter and had his own studio, in which he temporarily engaged more than ten artisans. His wife bore him four children. Their firstborn was called Franz "Franco" (1906 – 1958). In 1929 the young Franco founded a woodcarving distributor business – the company Franco Comploj.
In the first row sits Alois Kostner Móler da Pertàn (fifth from left). He temporarily engaged more than 30 artisans in the biggest painting atelier of Val Gardena ever since.
Picture taken around 1900 next to Pana bridge in Ortisei: It is one of the first pictures showing a group of Val Gardena artisans and their artwork. The picture was taken by the known photographer and painter Michl Lackner from Kirchberg in Tirol.
First row from the left:
1. Luis Kostner da Stlujuc
2. Johann Delago dala Sëlva
3. Josef (Sepl) Bernardi de Iànec
4. Franzisca Kostner da Pertàn
5. Alois Kostner Móler da Pertàn
6. Johann Stuflesser
7. Ferdinand Stuflesser de Petlin
8. Prof. Adolf Kaim
9. Marina Kostner
10.Jan Meine Demetz

Second row from the left:
21. Johann Moroder de Trinadianesch
22. Paul Leitner from Villnöß
23. Franz Comploj dl Pizuela
24. Petri (Italian primer)
25. Angiul da Bruel

Third row from the left:
31. Unknown
32. Johan Kostner da Pertàn
33. Josef Pescosta from Colfuschg
34. Jockl Crepaz
35. Rinaldi from Venice

Fourth row from the left:
41. Engel Kostner da Pertàn
42. Josef Demetz da Pallua
43. Unknown
44. Dominik Moroder de Oberdoss (brother of Josef Moroder "Lusenberger")

Errors excepted – Picture archived in a private album of the family Franco Comploj