We love the nativity, everything has arrived , thank you!! I wish it were Christmas all year round so I didn't have to put it away! Have a nice day and thank you again P.E. (Illinois U.S.A.)

RAI national TV - Benedict XVI. meets recipients of the Ratzinger Prize. With the Mariazell Madonna from our workshops in the background.
I am super happy with the crucifix I bought from you! It is hanging in a newly constructed chapel and I do not think I could have found a more beautiful piece of art for this purpose! Thank you so much for your great artistry and craft. E.G. (Missouri U.S.A.)
The pieces are beautiful and a welcome addition to those we have. Thank you. F.J. (U.S.A.)
Thank you so much for the two crucifixes I ordered. They are beautiful! They were a gift. Both were pleased to receive them, so thank you again and God bless. P.H. (Australia)
Dear Franco Comploj, many thanks for your Christ body - perfect as usual. Best regards, P.K. (Czech Republic)
Article about Franco Comploj in the UK Magazine ITALIA! Thanks to Jenny Oldaker: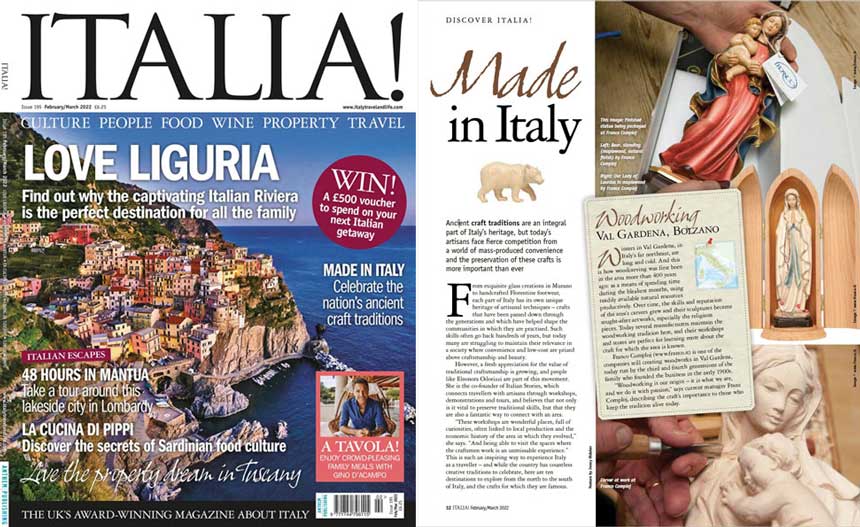 DISCOVER ITALIA! Made in Italy
Ancient craft traditions are an integral part of Italy's heritage, but today's artisans face fierce competition from a world of mass-produced convenience and the preservation of these crafts is more important than ever From exquisite glass creations in Murano to handcrafted Florentine footwear, each part of Italy has its own unique heritage of artisanal techniques – crafts that have been passed down through the generations and which have helped shape the communities in which they are practised. Such skills often go back hundreds of years, but today many are struggling to maintain their relevance in a society where convenience and low-cost are prized above craftsmanship and beauty. However, a fresh appreciation for the value of traditional craftsmanship is growing, and people like Eleonora Odorizzi are part of this movement. She is the co-founder of Italian Stories, which connects travellers with artisans through workshops, demonstrations and tours, and believes that not only is it vital to preserve traditional skills, but that they are also a fantastic way to connect with an area. "These workshops are wonderful places, full of curiosities, often linked to local production and the economic history of the area in which they evolved," she says. "And being able to visit the spaces where the craftsmen work is an unmissable experience." This is such an inspiring way to experience Italy as a traveller – and while the country has countless creative traditions to celebrate, here are ten destinations to explore from the north to the south of Italy, and the crafts for which they are famous

Woodworking Val Gardena, Bolzano
Winters in Val Gardena, in Italy's far northeast, are long and cold. And this is how woodcarving was first born in the area more than 400 years ago: as a means of spending time during the bleakest months, using readily available natural resources productively. Over time, the skills and reputation of the area's carvers grew and their sculptures became sought-after artworks, especially the religious pieces. Today several manufacturers maintain the woodworking tradition here, and their workshops and stores are perfect for learning more about the craft for which the area is known. Franco Comploj (www.franco.it) is one of the companies still creating woodworks in Val Gardena, today run by the third and fourth generations of the family who founded the business in the early 1900s. "Woodworking is our origin – it is what we are, and we do it with passion," says current manager Franz Comploj, describing the craft's importance to those who keep the tradition alive today.
Page 32 ITALIA! 22 February/March Feature by Jenny Oldaker (United Kingdom)
Dear Franco team, I received the crucifix and I love it very much. You've carved our Lord Jesus with such majestic beauty in his time of great suffering. I will always treasure it and have it hung in a place of honour. And maybe someday I will order a larger size too. Thank you too for only wrapping it in paper. Kindest regards and God bless P.H. (Australia)
Thank you. The package arrived yesterday in perfect condition. I'm very pleased with the figures- they are a beautiful addition to what we purchased last year. Sincerely, R. F. (Kansas U.S.A.)
Hello, I bought one of your sculptures in Paris witch its beautiful. Thanks, M. B.
Dear Franz, I received this cross today. It's so beautiful. I'm realy delighted. Thank you so much for your help with the order and for the very good protection of the parcel in transport. All the best, E.H. (Poland)
It is just beautiful-Many thanks. J.F. (Kansas U.S.A.)
Thank you so much . We received it yesterday, it is great D.K. (Colorado U.S.A.)
The parcel arrived this morning, just on time. Thanks a lot. D.B. (Canada)
We we're both very happy with the statues. Thank you especially for giving one of them the darker hue. Best regards, K.H.(Sweden)
The crucifixes we purchased from you for the altars of our monastic Oratory are very beautiful. Visiting priests who celebrate Holy Mass at these altars always remark on the crucifixes. With every good wish, M. K. (Ireland)
Good Evening, My package was received perfectly packed and we absolutely loved the wood statues. Thanks D.B. (United Arab Emirates)
DEAR FRANCO, THANK YOU SO MUCH FOR EVERYTHING, AND MAY GOD BLESS YOU L.K. (Minnesota U.S.A.)
Yes, I received the statue and it's perfect ! I have to say that the customer service I received from you is the best ! Someone replied to my emails within 24 hours every time. You should be really proud of your staff. The only suggestion that I would have it to offer different speeds of delivery. While it was great to get my package within a few days of placing the order, it would have been okay for me to get it later and spend less on shipping. Thank you ! T.K.(U.S.A.)
Hello, I Received the Woodcarvings and they are very nice. The shipping time was excellent your service is Great... Thank you again ! E.S.R., (California U.S.A.)
Thanks for the four angels with musical instruments which you sent me last week. They are so beautiful and will look great with the Nativity figures I bought some years ago. I can't wait till Christmas to see them all in place !
Kind regards. A.W. (Great Britain)
The package arrived today. The three kings and animals are so beautifully carved and created! Thank you for clarifying size with your previous email. Thanks, D.M.(Oregon U.S.A)
Grazie, Grazie, The sculptures arrived and are bella e perfecto. We are enjoying them with the others that were by you that we bought locally. We appreciate your beautiful work. Thank you, P. B. D. (Virginia U.S.A.)
Dear Mr Comploj, our order of 3 Kings and ballerina arrived here safely on Friday and we are delighted with them all. Mille grazie, D. P. S.(Great Britain)
Dear Franco, The angels I bought from your store are real blessing. Thank you very much for your attention and kindness. Best regards, L. (Brazil)
Thank you for your excellent service. C.J. (Texas U.S.A.)
Dear Franco, I just received my package.. Thank you for the safe and quick delivery of the goods.I love, Love the beautiful hand carved statues!!!!!! Thank you for the great craftsmanship. I will be ordering again in the near future. God Bless you all. Have a great week !!! Sincerely, M.S.(Arizona U.S.A.)
Hello Mr. Comploj, The pink ballerina is exquisite. Thank you. Best regards, M. (Belgium)
I am extremely satisfied with your product and I intend to buy soon again from you. Delivery was very fast and I am delighted by the whole experience of it. Thank you very much. Congratulation on your craftwork. Regards, B. A. (Great Britain)
Dear Mr Franco, I receive your woodcarvings 2 weeks ago. These wood figurines are definitely beautiful. Your work is magnificent, and we will continue too complete our nativity scene. Best regards L.C. (France)
Dear Franz, I received the beautiful crucifix in the post this morning. It is elegantly crafted and so sensitively painted. It will be an added pleasure to say mass with it at the altar! In Domino, Rev P. M. (Ireland)
Dear Franco, Thank-you so much, we have just received the statues, and they are beautiful. I am very excited to give them to our children on Saturday. Thank-you for making this experience so enjoyable. Many Thanks! S.K. (USA)
I have received your beautiful carvings in perfect condition. Once again many thanks for your carvings !! Best regards, P.K. (Czech Republic)
Thanks for the carving - it arrived safely and quickly and I am very pleased with it. L. N. (Great Britain)
Dear Sir, I did receive my woodcarving yesterday. It was in good condition, as expected. Thank you very much for the well-organized website of Franco Comploj and the fast delivery service. You met all my expectations. Regards, J.M. (Portugal)
Dear Sir, I am writing to tell you how much your figures were enjoyed over Christmas by all the children in our village. Many adults were also impressed! J.M. (Great Britain)
dear Franco, your beautiful wood carvings had arrived last week. Thank you, Best regards, A.O. (Hungary)
The crucifix arrived. Simply excelent. Better than what I thought.
Best regards. C.S. (Argentina)
---
Please see also customer reviews in the other languages IT DE ES FR
---