The woodcarving tradition in Val Gardena goes back to the beginning of the 17th century
Some mountain peasants in Val Gardena, especially between Ortisei and Santa Cristina, were the first to carve wooden figures. Valley records mention the Vinazer family at Pescòsta and the Tröbingers at Ciancèl, who were probably the founders of woodcarving in Val Gardena. After earlier generations of these families had learned their noble trade at well-known art workshops and academies, such as in Munich, Vienna, Venice and Florence, they began to specialize almost exclusively in religious sculptures. Only somewhat later were secular woodcarvings created. As the industry developed, the first dealers began to appear, first as itinerant traders, and later as wholesalers of the woodcarvings in Val Gardena. A few decades later a real network of salesmen and representatives emerged, marketing the works all over Europe. So, many families in Val Gardena not only continued to cultivate their native farms, but also began dedicating their time to woodcarving, painting, gilding, toy and cabinet-making, and altar building (The picture shows a group of artisans, predominantly painters).
Our family business has its origins around 1900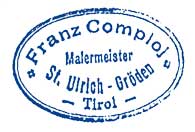 At that time the master painter (more precisely sculpture painter) Franz Comploj dl Pizuela (in the picture second row, third from left), father of the later company founder, was operating a workshop for sculpture painters in Ortisei (see company stamp), at times employing more than 10 of these artisans in the company. The first born son, also called Franz in accordance with the family tradition, developed a passion for woodcarving like his father. So he founded his own company at a young age and since 1929 he was the owner of the woodcarving export company "Franco". The company name FRANCO is made up by the first letters of the first name FRANz and his surname COmploj*. Due to his passion and enthusiasm for woodcarvings, he was immediately successful and in few years he could acquire a building ground in his hometown Ortisei, where he would build his second home and the company seat. Indeed the "Villa Franco" has bee the company seat and home of "Franco" until today. Franz's younger brothers Adolf and Otto were initially part of and working for the company, but, encouraged by their brother, subsequently founded their own woodcarving companies.
In the mid 50s, with only 18 years of age, Franz's son Franco took over the company "Franco". He was named Franz according to the family tradition as well and, being born shortly before the beginning World War II, his name was italianized in Francesco, as Fascist rule wanted it. But his imposed name form was never used, and he continued to be called Franco. The fusion of the company name with the first name seems to be an omen, as even today with over 80 years, senior boss Franco is involved in the daily company business and offers precious active support to the now 4th generation running the family business. Having been part of his life for more than 60 years, the company will always be particularly dear to him.
The current management of the company, operating now on international scale, lies in the hands of Franco's son Franz Robert, who, next to the challenges of new markets, digitalization and a new product range, is bringing his enthusiasm for the family woodcarving business close the the fifth generation. In fact the passion for woodcarving is a family matter with "Franco" and each generation runs the company with enthusiasm and dedication. The company offers a wide range of high-quality woodcarvings, originating both in the local and Christin art tradition. However, you can find also more modern and secular treasures of the Val Gardena woodcarving tradition in the comprehensive "Franco" catalogue, in the online-shop and directly in our shop in Ortisei.
* As with FRANCO (FRANz COmploj), acronyms are often used in Val Gardena, i.e. combinations of the first name and surname, and this was also the case with very traditional local companies:
ANRI, founded in 1912 by ANton RIffeser, was one of the largest woodcarving companies. Many American soldiers brought home an "Anri" carving as a souvenir after the Second World War. The brand spread quickly in the United States, with more than 80% of the production destined for the American market.
SEVI wooden toys were founded in 1831 by Josef Anton Senoner and were named after his son Vinzenz (SEnoner VInzenz). Sevi, one of the largest employers in the Val Gardena valley, employed up to 140 people plus about 200 home workers.
OTCO was founded by OTto COmploj (Otto and Franz -the founder of Franco- were brothers).
The generations from 1880:
First generation - Franz Comploj dl Pizuela (*1880 †1963) wife Amalia Runggaldier da Passua Master painter (sculpture painter) with own workshop, at times employing more than 10 artisans
Second generation - Franz "Franco" Comploj (*1906 †1958) wife Ilda Albertina Casari; founded the woodcarving export company "Franco" Comploj in 1929
Third generation - Francesco "Franco" Comploj *1938 wife Elisabeth Pobitzer;
active in family business for more than 60 years
Fourth generation - Franz Robert Comploj *1973 wife Dora Demetz
The family business is currently run jointly by the third and fourth generation together.
In the picture we see three of our ancestors, that were active artisans already around 1900:
Franz Comploj dl Pizuela (*1880 †1963), great-grandfather of Franz Robert – nr. 23
Ferdinand Stuflesser de Petlin (*1855 †1926) great-great-grandfather of Franz Robert's wife Dora - nr.7
Jan Meine Demetz de Sule (*1847 †1916) great-great-grandfather of Franz Robert's wife Dora - nr. 10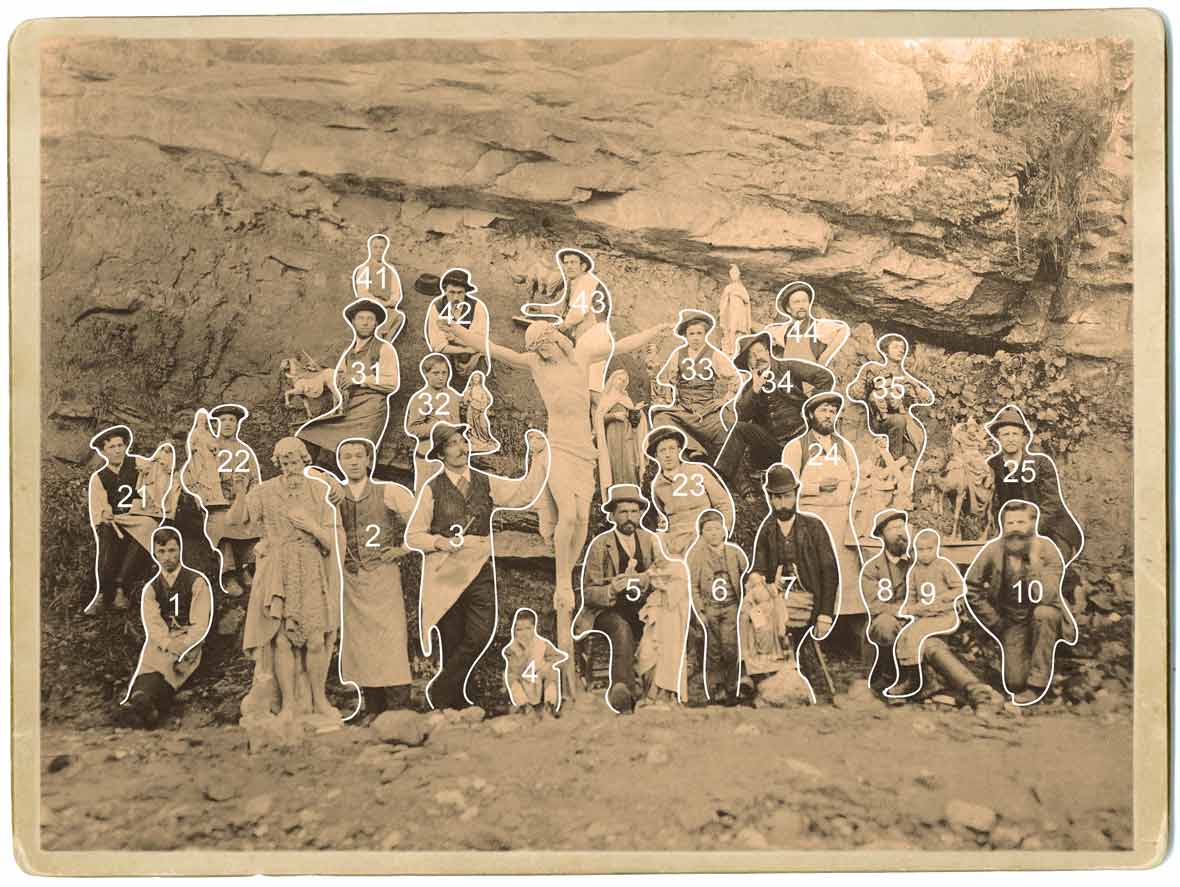 Picture taken around 1900 near the Pana bridge in Ortisei: it is one of the first group pictures of Val Gardena craftsmen with their works.
First row from the left:
1. Luis Kostner da Stlujuc
2. Johann Delago dala Sëlva
3. Josef (Sepl) Bernardi de Iànec
4. Franzisca Kostner da Pertàn
5. Alois Kostner Móler da Pertàn
6. Johann Stuflesser
7. Ferdinand Stuflesser de Petlin
8. Prof. Adolf Kaim
9. Marina Kostner
10.Jan Meine Demetz

Second row from the left:
21. Johann Moroder de Trinadianesch
22. Paul Leitner aus Villnöß
23. Franz Comploj dl Pizuela
24. Petri (Italian primer)
25. Angiul da Bruel

Third row from the left:
31. Unbekannt
32. Johan Kostner da Pertàn
33. Josef Pescosta aus Colfuschg
34. Jockl Crepaz
35. Rinaldi aus Venedig

Fourth row from the left:
41. Engel Kostner da Pertàn
42. Josef Demetz da Pallua
43. Unbekannt
44. Dominik Moroder de Oberdoss (brother of Josef Moroder "Lusenberger")

Errors excepted – Picture archived in a private album of the family Franco Comploj
The Pizuela Farm
Photo and text: Nosta Sëlva Vedli inuems de luesc y mejes - Publisher: Cunsëi de furmazion de Sëlva - Rudolf Mussner
1715: Pizuala de Chiamplo, Mathio de Chiamplo
1762: Margreta Vinàzerin Wittib zu Pizzuellà 56 und 5 K ... ½ heisl u. ackherle, Caspar Comploy Schuester zu Pizuella 27 ... Margreta Rubatscherin 35 besizzet ½, heisl und ackherle.
1768: Caspar Comploy h. i. die Behaus. Pitzuellä u. ain Ledergärb unter Neuhaus.
1779: Caspar Comploier hat innen die Behausung Pizuellä mit Ledergärb u. Holzhütten
1780: Pitzuella
1754 - 1896: Pizzuola, Gian Antonio Comploi
1784 - 1919: Pizzuella, Joh. Anton Comploi
1858: Komploi Johann Anton, Pizuela, Bauer: Wirtschaftsgebäude, 18 Qk., samt Gemüsegarten und Wohn u. Wirtschaftsgebäude, 78 Qk.
1899, 1951 : Pizuéla
1986: patrons de Pizuëla: Comploi Paula y Senoner Carla
2008: mesc stlut Pizuela: Comploj Johann Anton, Pizuela