We have a wide selection of wood carved and painted angels: heads of angels, standing angels, angels with wings, angels as candleholders and as stoups. Heads of angels are available with or without hair ribbon, although the last model is particularly appreciated so that it is produced in various sizes between 1½ to 10 inch (4 to 25 cm). In addition, our collection comprises the three angel heads and the head of the Cherub Angel, the guardian of paradise. Among the standing angels you can find the celestial angels, which are generally carved with simple and stylized dresses but with elaborate faces, hair, hands and musical instruments. This type of angels is available in baroque style and can also be exhibited as a wall decoration or displayed on a particular piece of furniture in the house. The flying angel with wings, called putto, is represented half-naked with piece of cloth covering some parts of the body and with a musical instrument. The candleholder angels, which can be equipped with an electric light system, are an ideal decoration for the bedside table or other pieces of furniture. The representation of the guardian angel holding out the hand to the child is particularly loving and affectionate and therefore this motive is often found in children's bedrooms sometimes also as stoup. In the Franco Online Shop you can find all the sizes and finishes of the 500 wood carved angels.
Celestial angels Art. 1200 COLOR
Pair angels'heads Art. 1015.P COLOR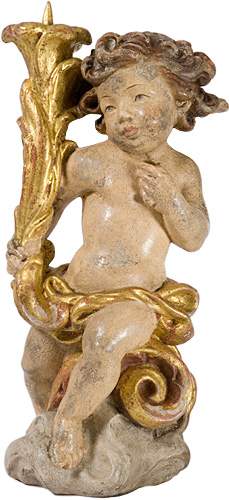 Angel candle holder Art.1273 OLD.ANT.G.
Certificate of authenticity Franco: