Among the Romanesque Madonnas, Our Lady of Mariazell is one of the most popular. This Madonna is represented without the typical "Our Lady" dress, as can be admired in the Basilica of Mariazell (Austria) on just two special days a year. A replica of Our Lady of Mariazell from our production was donated to the Holy Father, John Paul II at Christmas 1994 (see picture above).
Another famous model is Our Lady with Child (Art. 0173), where one should notice the very natural position of the Baby Jesus and the loving look of Our Lady, elements that both underline the clarity and harmony of this perfect image. Visit the Franco Online Shop and you will find all the information regarding our production of more than 350 wood carved Madonnas in various sizes and finishes.

Madonna with Child seated-Romanesque style - Varna near Bressanone, South Tyrol, parish church. Sculpted at the end of the 13th century. From this sculpture we can observe how the Romanesque style became closer to the Gothic in the XIII and XIV centuries. Art. 0181 OLD.ANT.G.
Certificate of authenticity Franco: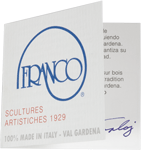 You can find all the Madonnas wood carvings of our own production in the
Franco

Online Shop