Still nowadays, the traditional "stube" with the peculiar wood-paneled walls and the crucifix in the corner can be found in several houses of Val Gardena. Franco Comploj produces a vast array of wood carved and painted crucifixes and corpus figures (the Body of Christ). We can distinguish between three style categories, namely the classical, the Romanesque and the modern or stylized style. We produce two different corpus figures in the classical style (see picture below). The corpus model Art. 4400 is very popular because of the calm and serene facial expression. Due to the high demand of this model, it is available in several sizes from 4 to 33 inch (10 to 85 cm). The model Art. 4500 seems a little more agile and youthful and the loincloth does not completely cover the hips. As regards the various models of Romanesque crucifixes, the cross has shorter dimensions than in the classical or more traditional crucifixes. The height of the cross of classical crucifixes is usually twice the size of the corpus. All the corpuses can be fixed on various models of crosses: straight, carved or bended, with shamrock-shaped ends or on a small platform (so-called table crucifix). You will find more than 500 wood carved crucifix models and combinations in the Franco Online Shop.
Christ's body Art. 4500 - COLOR

Christs' bodies from 2"(4cm) to 34"(85cm) - with a large assortment of crosses.
Custom carving 60 inch (150cm): Corpus
Certificate of authenticity Franco: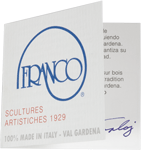 You can find all the Crucifixes & Christs' bodies wood carvings of our own production in the
Franco

Online Shop